Performance + artist talk "youAI-I3-01"
Improper Walls Gallery
28.04.2023, 19.00 Uhr @ Improper Walls, Reindorfgasse 42, 1150 Wien
A word and dance performance discussing the training of so-called artificial intelligence systems. Our behavior in digital media is being used to train AI's ever more precisely, sometimes subtly, sometimes quite obviously.
youAI is the latest research cycle by transdisciplinary H.A.U.S.
On stage Dancer I3, an actress, an engineer, the robot and the AI. But who is training whom?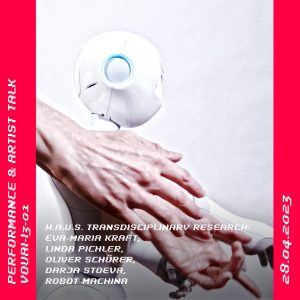 H.A.U.S. transdisciplinary research group
Choreography, dance: Eva-Maria Kraft
Actress: Linda Pichler
Discourse: Oliver Schürer
Technical Supervision, Human-Robot-Interaction: Darja Stoeva
Robot Machina
(Foto: H.A.U.S.)